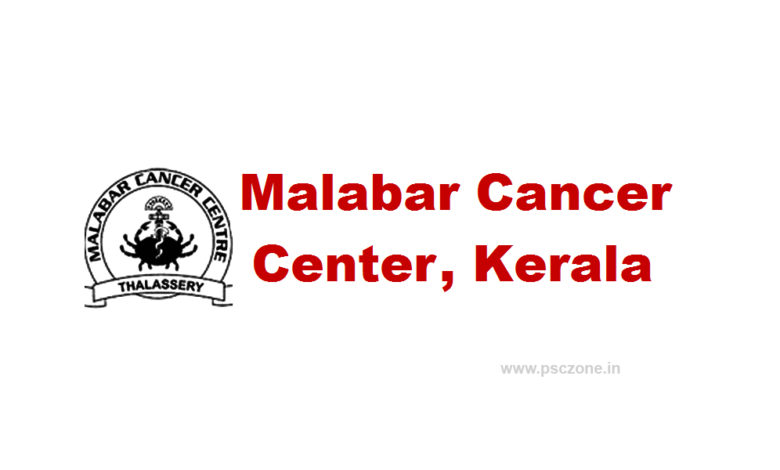 Malabar Cancer Centre Notification 2020 : Post 1 : Malabar Cancer Centre, Thalassery invited application through online for the post of Technician Nuclear Medicine on permanent basis. Interested candidates may apply through online (www.mcc.kerala.gov.in/MCCApp/mccapp.php).
Job SUmmary
Post Name
Technician Nuclear Medicine
Qualification
B.Sc in Nuclear Medicine Technology/DMRIT (Diploma in Medical Radioisotope Techniques) OR PG Diploma in Nuclear Medicine Technology
Age
Below 35 Years
No.of Vacancies
02
Scale of Pay
Rs.9300/- to Rs.34800/-, GP:4200
Application fee Rs. 250/- for SC/ ST category and Rs. 750/- for others in the form of Demand Draft drawn from a nationalized bank in favour of Director, Malabar Cancer Centre payable at Thalassery should be submited along with the print out of Online application.
The last date of submission of ONLINE application is 04.30 PM, 20-06-2020
Signed, hard/ Print copy of ONLINE application along with Demand Draft as application fee and self attested copies of certificates (for proving age, qualification, experience, community, etc.) should be forwarded to The Director, Malabar Cancer Centre, Moozhikkara PO, Thalassery, Kerala-670103 without fail so as to reach on or before 30/06/2020 till 4.30 PM
The envelope containing application should be super scribed as "Application for the Post of ………………………………………" with post name.
Use the website www.mcc.kerala.gov.in or the link http://mcc.kerala.gov.in/MCCApp/mccapp.php for applying online.
Late applications will not be considered after the Last date of submission.
Post 2 : PROFESSOR (1. Radiation Oncology, 2. Nuclear Medicine) and
ASSISTANT PROFESSOR (1. Medical Oncology, 2. Nuclear Medicine, 3. Clinical Hematology, 4. Radiology)
Interested candidates may apply in the prescribed MCC application form, with detailed biodata and attested certificates copies (for proving age, qualification, experience etc.) along with D.D. worth Rs. 1000/- (Rs.250/- for SC/ST candidates) favoring Director, Malabar Cancer Centre, Thalassery payable at Thalassery, should reach the undersigned on or before 20/06/2020 .
Application form and details are available in http://www.mcc.kerala.gov.in
Last Date of receipt of applications: 20-06-2020, 05.00PM
Candidates should download prescribed application form from MCC website www.mcc.kerala.gov.in .
Duly signed, hard/ print copy of downloaded application form, along with attested scanned copies of certificates (for proving age, qualification, experience, etc.) should be forwarded to the email [email protected] or before 20/06/2020 till 5 PM
Important Links
Notification : Technician Nuclear Medicine
Click Here
Notification : Professor & Assistant Professor
Click Here
More Info & Apply Online
Click Here
Other post , you may like :