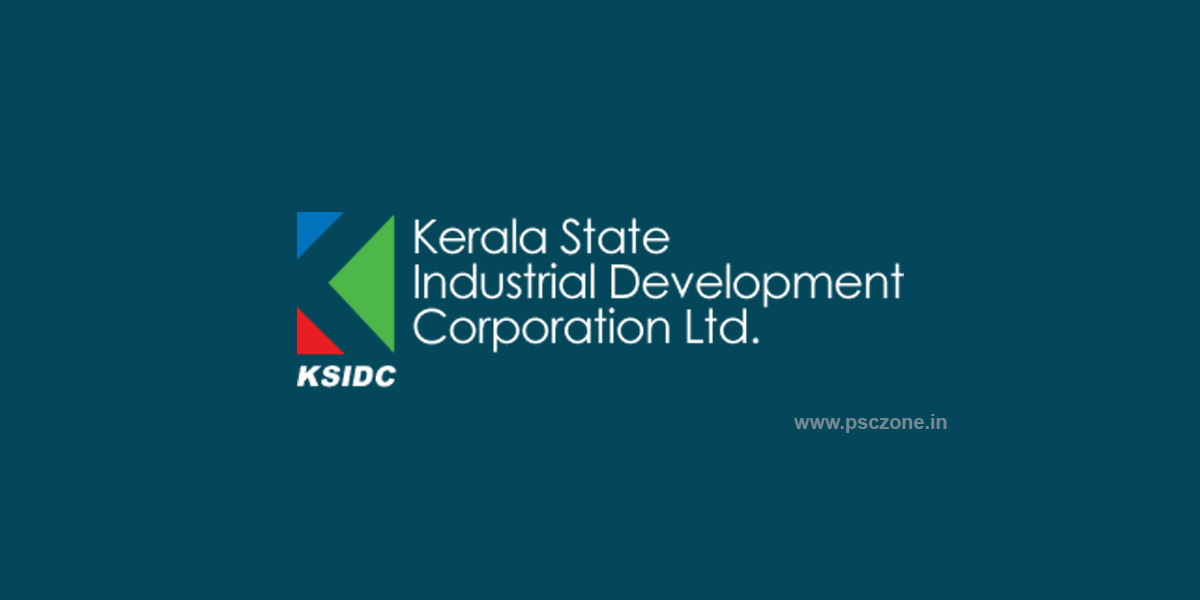 The Kerala State Industrial Development Corporation Ltd. (KSIDC) Notification 2020 : The Kerala State Industrial Development Corporation Ltd. (KSIDC), a premier Public Sector Undertaking in Kerala, engaged in industrial & investment promotion, project financing & facilitation, development of industrial infrastructure & parks, development of mega projects, etc., invites application from qualified and competent candidates for appointment to the posts of Technical Advisor-Electrical, Business Development Executive, Junior Business Development Executive, Project Officer, Executive Assistant (Chairman) and Executive Assistant (Managing Director) on Contract basis. The details are given below;
Vacancy Details
---
Post : Technical Advisor-Electrical
No.of Vacancies : 01
Qualification : B- Tech/BE/B.Sc. Engineering or Equivalent degree in Electrical Engineering from a reputed institution
Upper Age Limit : 65 years
Remuneration : Rs.40,000/- per month
Post : Business Development Executive
No.of Vacancies : 03
Qualification : First Class in Degree and First Class in MBA
Upper Age Limit : 28 years
Remuneration : Rs. 30,000/- per month
Post : Junior Business Development Executive
No.of Vacancies : 02
Qualification : First Class in Graduate Degree
Upper Age Limit : 28 years
Remuneration : Rs. 25,000/- per month
Post : Executive Assistant (MD)
No.of Vacancies : 01
Qualification : Degree + MBA
Upper Age Limit : 35 years
Remuneration : Rs. 30,000/- per month
Post : Executive Assistant Chairman/Seed funding (Kochi Office)
No.of Vacancies : 01
Qualification : Degree + MBA
Upper Age Limit : 35 years
Remuneration : Rs. 30,000/- per month
Post : Project Officer Kerala Life Sciences Park Society
No.of Vacancies : 01
Qualification : Post Graduate Degree in Civil Engineering, Preferably with MBA
Upper Age Limit : 45 years
Remuneration : Rs. 50,000/- per month
Instructions to Applicants
---
The applicants are required to go through the detailed notification carefully and decide themselves about their eligibility for this recruitment before applying and enter the particulars completely Online
CMD is not responsible for any discrepancy in submitting the application through Online.
Applicants must compulsorily fill-up all relevant fields of applications and submit application through Online.
The applicant should not furnish any false, tampered, fabricated information or supress any material information while filling up the application form. If the particulars furnished in the Online application form do no tally with the Original documents produced by the Candidates his/her candidature will be rejected.
CMD reserves the right to fill or not fill the post advertised.
Only Post-Qualification experience of applicants/candidates until 01.03.2020 will be considered
Applicants should have a valid personal email ID and mobile no., which should be kept active till the completion of this Recruitment Process. CMD may send intimation to download call letters for Written test/Group discussion/Interview through the registered e-mail ID. In case a candidate does not have a valid personal e-mail ID, he/she should create his/her new e-mail ID and mobile no. before applying on-line and must maintain that email account and mobile number.
The copy of the Appointment letters, Salary Certificates, pay slip etc. will not be accepted in lieu of work experience certificate.
Important Dates
---
Commencement of On-line application submission : 18 March 2020 (10:00 am)
Last date of On-line application submission : 01 April 2020 (5:00 pm)
Important Links
Official Notification & Application Form
Click Here
Other post , you may like :